BOX Partners Recognized for Operational Excellence by Grainger

Partners in Performance awards celebrate suppliers who exceed company performance expectations.
BOX Partners was recognized with Grainger's 2022 Partners in Performance Award. Grainger, the leading broad line distributor of maintenance, repair and operating supplies, presents the award to a select group of suppliers for outstanding performance throughout the year.
Grainger's Partners in Performance Award honors suppliers who achieve excellence in several categories, including responsiveness, information integrity, on-time shipping, variability, management commitment and order fulfillment.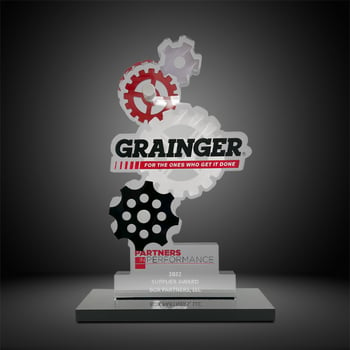 "We are proud to receive this award from Grainger and its recognition of our employees' dedication to serve our customers with fast delivery of a wide assortment of quality packaging products," said Neil Thomas, CEO of BOX Partners. "We strive for excellence in everything we do to support the success of our partners."
Grainger suppliers receive ratings throughout the year on their performance in each category. Of Grainger's more than 3,500 High-Touch Solutions suppliers, fewer than 1 percent are chosen to receive these awards.
"Grainger is proud to recognize BOX Partners among a select group of suppliers who add value for the customers and communities we are privileged to serve," said Matt Fortin, Group Vice President, Merchandising and Supplier Management. "Partnership is key to our success, and we want to thank BOX Partners for their exceptional support of our mutual customers."
# # #

About BOX Partners, LLC
Helping YOU Sell Packaging®
BOX Partners, headquartered in Elgin, Illinois, is a leading national wholesaler of packaging, shipping, and industrial supplies. The company provides supply chain and logistics solutions to packaging distributors, office supply businesses, industrial supply companies, and e-commerce platforms. BOX offers a huge selection of products, ready to ship the same or next day, including custom-label drop-ship capabilities. BOX helps its customers sell packaging through a comprehensive marketing support program. This is all driven by a powerful technology platform and an ability to think beyond the box!
www.boxpartners.com

About Grainger
W.W. Grainger, Inc., with 2022 sales of $15.2 billion, is a leading broad line distributor with operations primarily in North America, Japan and the United Kingdom. Grainger achieves its purpose, We Keep the World Working®, by serving more than 4.5 million customers worldwide with innovative technology and deep customer relationships. The Company operates two business models. In the High-Touch Solutions segment, Grainger offers more than 2 million maintenance, repair and operating (MRO) products and several services, such as technical support and inventory management. In the Endless Assortment segment, Zoro.com offers customers access to more than 12 million items, and MonotaRO.com provides more than 20 million items
www.grainger.com